How many of you have planned on meeting someone at a certain intersection? There are lots of famous intersections in the world. If you live in Winnipeg, that intersection is Portage and Main. In Elgin, Man., it might be Highway 23 and the community hall. Or, and this will date me, the 1964 hit song Love Potion Number Nine, where it was "down on Thirty-Fourth and Vine." Often, there is something significant or worthy happening at an intersection.
What if we were to think of farm business management as having an intersection, where farmers would have reached a pinnacle of business management performance? That would definitely be "worthy." The accompanying illustration presents an image of the intersection of management performance.
Different from the intersections referenced above, this intersection is a convergence of three key foundations of business management development. To be at the pinnacle of management performance, a farm would need to have reached a certain stage of development in each of the three areas.
The development in each of the foundational areas is not exclusive to any specific area. There is mutuality of development required within and between the three key foundations if a farm is to reach their "pinnacle".
For example, a farm could have all aspects of the financial systems in place to have reached its pinnacle, but not having achieved a similar threshold of performance in management depth or strategic focus would prevent it from getting to the top.
Management depth, financial systems and strategic focus
Certainly, there can be different ways to understand what defines pinnacle management performance. Coming to consensus within a farm family on what those definitions are is an extremely important first step. My suggestion would be to set the bar that brings definition into play high.
Management depth
The following are suggested measures of development associated with pinnacle-type performance:
Clarity and agreement on roles and responsibilities exists.
There is consensus on accountability to the roles.
A compensation philosophy has been agreed upon, including compensation to owners, management and labour.
A cadence to meetings is in place, including operational and management meetings with discipline that ensures the meetings occur.
Annual general meetings are held, preferably off-site.
There is a current and future-state organizational chart.
A written program of ongoing professional development exists.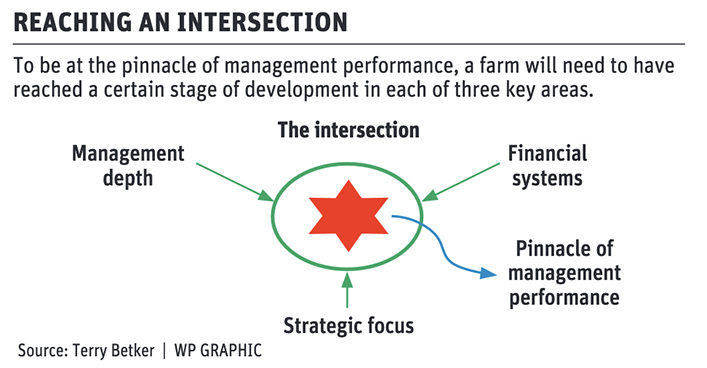 Financial systems
The following are suggested measures of development associated with pinnacle-type performance:
Financial targets are set and reviewed annually.
Annual projected operating budgets are developed.
Analyzing year-to-date (quarterly or monthly as required) performance, including comparison to projected budgets.
A five-year "progressive" budget has been developed and is updated regularly (annually/bi-annually).
Long-term financial modelling (at least 10 years out and perhaps 20 years, which correlates to generation).
Multi-year capital budgets are updated annually.
Strategic focus
The following are suggested measures of development associated with pinnacle-type performance:
A written strategic plan is reviewed and updated annually.
A family charter is in place accompanied by annual family meetings.
A distinct office outside the family home exists.
Investment guidelines are in place.
Leadership is defined.
An advisory board of directors is established and used.
Governance is formalized, being concerned with structure and processes for decision making, accountability and controls.
Make sure that you celebrate reaching your pinnacle of farm business management performance. The journey is difficult, but the destination will be worth it.
If you would like to speak to one of our consultants about this topic contact us.